I'll Allow my Daughter have a Relationship a Age 15…Gospel Singer, Kenny Saint Best
Source: Nathan Nathaniel Ekpo/Nollywoodgists.com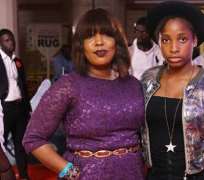 Popular Gospel singer, Kenny Saint Best, is not just that type of regular mother that wants to be harsh on their children especially their female child as she already has plans for her daughter.
The singer recently revealed that once her daughter turns 15 years of age, she will gladly allow her fall in love with the man of her choice because she also had same feelings at that age.
She said she will not support the kind of relationship where they will be walking around the streets holding hands but a civil one where they will have to spend quality time to know each other.
"When I was in the university, I took a course in Philosophy and they taught us that there is a particular age that girls start dating and they call it the age of 'Penis Envy'. It is not that the girls are necessarily looking for sex, it is just a stage in their life whereby they realise that they are pretty and they can be attractive to a guy.
"For me, once my daughter is 15 years old then it is okay for her to date. It is not that they would be walking around holding hands but it has to be a civil and responsible relationship. I am not a regular parent, I feel it is okay for a female child to be aware that she is attractive to guys and she should also know that the guy would woo her. That was the age it happened to me and I would be a wicked mother to expect that at the age of 15, my daughter would not have someone wooing her or telling her the usual lies guys tell ladies," she said.