FIVE of the 37 governorship candidates vying to govern Anambra State were on ground on Sunday, to put across their plans to the public at a public debate.
The debate was remarkable as it gave Nigerians and especially the people of Anambra State the opportunity of knowing the strength, weakness and the overall fitness of those seeking to govern the state.
With questions that bordered on their plans, each candidate used the opposition to espouse his mission and vision even as they resulted in personality bashing.
The candidates, who participated in the debate were Dr. Tony Nwoye, All Progressives Congress, APC; Governor Willie Obiano, All Progressives Grand Alliance, APGA; Mr. Oseloka Obaze, Peoples Democratic Party, PDP; Godwin Ezeemo, Progressives People's Alliance, PPA and Osita Chidoka, Universal Peoples Party, UPP.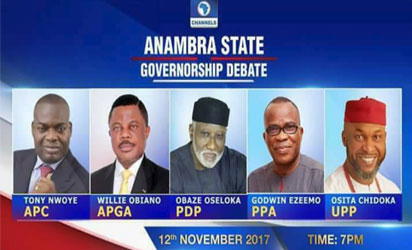 I'll focus on power, infrastructure — Nwoye
Nwoye
"I am here to offer myself to serve as chief servant of Anambra. I am here to take Anambra State to enviable heights. I am here to serve if given the mandate. I am of the opinion that one of the reasons I want to govern Anambra State is to block leakages.
"If we can have steady power supply and good roads, our industries will grow, we are going to manufacture more. Most of the power lines in Anambra are 33KVA instead of 330KVA. I will do more on power if I am elected governor. I will also work on many roads and I will make security a topmost priority because all these will create an enabling environment for foreign investment."
In addition, he promised to "make Anambra the industrial hub by focusing on power, good roads and infrastructure. If we are able to provide steady power supply, the industries will grow. If elected, I will focus on power; I will also ensure there are good roads. The key is providing an enabling environment. I will also provide security, the incumbent governor has tried his best in security, but it is beyond him. Portable and accessible roads have eluded Anambra State. Governors Chris Ngige and Peter Obi did their best and my brother, the governor has also done his best. If elected governor, the issue of roads should be given priority. Infrastructure cannot be done without doing roads."
I have a broad platform — Obaze
Obaze
The PDP candidate, Mr Obaze displayed his mastery of the workings of government.
Obaze said: "I have a broad platform. I live in the state, I have been in government. We have the mission, intelligence and resources. I want to take government back to the people. We want to focus on human development, education. We will do it by giving 26 per cent budgetary allocation to education. We will create vocational training schools and mission schools. I was part of the security architecture in Anambra State. I understand what it means. The foundation on security is already there but we have to improve on it. We need to do governance because we have not conducted local government election for a long time. I will conduct it within six months."
Speaking further, he said "we had an understanding when Obi was leaving that I will stay for a short while. We agreed that I will stay for six months but I spent 16 months. There was no acrimony when I left. I issued a statement that I was leaving for a private life. At the end of 2015, I had to speak up because the state had been hijacked. We are challenged, that is why I am involved. It is a matter of semantics.
"The challenge we have is that this government has spent N600 billion and nothing to show for it. Where are the roads built? In Onitsha, there is no two kilometers of road built."
I'll bring principle of morality to the job — Chidoka
Chidoka
Also, Mr Chidoka promised to "apply the principle of morality to bring back Anambra State. We need to change the bearing of our state, human infrastructure is critical. In 2017, we ranked 37th out of 37th in bribery and corruption index. There is a need to go back to the basic. We will apply vision, sustainability and knowledge.
"The key issue is why you want to be governor. The UPP approximates my thoughts. The Nigerian state needs to be renegotiated. I believe that the Nigerian state is a product of negotiation. The UPP has said that they believe in rights to negotiation. Anambra is not a sustainable state; my ambition is to reverse the trend. We cannot grow a nation without a people who subscribe to that. My desire to be governor is to reverse the trend, the education our children are getting is the education of yesterday and not that of today."
I'm the only one for the job — Obiano
Obiano
On his part, the incumbent governor, who was put on the spot given the attack on his performance by his co-debaters, entertained the audience with details about his achievements and reasons he is seeking a second term.
Obiano said: "I am here to ask for re-election to take the four pillars and enablers to greater heights. We are doing well in education and agriculture and we will do well in the next term. I am not campaigning against Peter Obi; I will rather focus on what I want to do.
"What Anambra needs is someone that can drive the process. I'm the only guy here that can do that. Tony (APC) doesn't have the executive capacity; he hasn't even worked in his entire life. Obaze (PDP) worked in the UN, but the best place for him to work right now is in Syria. He should be distributing relief materials. My other fellow with executive capacity is Chidoka (UPP), but the only experience he has is in checking number plates and controlling traffic.
On the vexed issue of the money left by his predecessor, he said: "My predecessor left N9billion cash and N25.6 billion but he issued cheques worth N15 billion before he left office.
I have experience for the job — Ezeemo
Ezeemo
In his submission, Ezeemo said: "I have brought investments back to Anambra because I want the best. We are lacking in all fields. I have decided to forgo my comfort zone to sacrifice for the state. I will focus on security, health, agriculture, education, empowerment, and environment. We will ensure that Police and civilians work together.
"Anambra State is wallowing in trouble. We need good spirited individuals and people who are selfless.
"If we keep waiting, we are not going anywhere. I am here to offer myself selflessly. It is a matter of passion, if it is an ambition, I would have walked away.
"Therefore, with my experience, I have offered myself to assist the less privileged and indigent people. That is why I did a workshop in 2012 where I told our people that the problem we have in Anambra is the mindset."